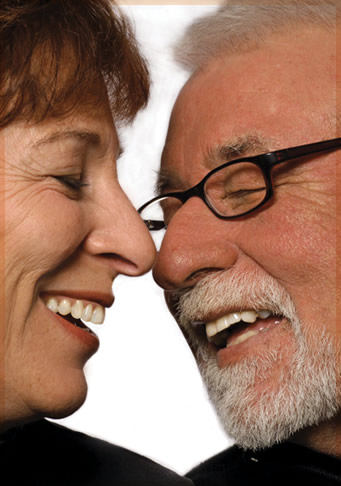 Implants
No More Dentures, Mo More Bridges
Implants are changing the way people live! Implants let you rediscover the comfort and confidence to eat, speak, laugh and simply enjoy life! An amazing alternative to bridges and dentures, dental implants are designed to provide a foundation for replacement teeth that look, feel and function like natural teeth. Just imagine - you will retain the ability to eat almost anything you desire and smile with confidence, knowing that your teeth look natural. Other important benefits include preservation of your natural facial structure and prevention of bone deterioration, a common problem with missing teeth.

Implants consist of small titanium posts, surgically placed into your jaw to replace tooth roots. Your bone will bond with this titanium post, creating a strong foundation for porcelain teeth. These teeth are so strong and natural feeling, you may even forget that they aren't your own!

There has been a lot of buzz in the media about implants recently. You may have heard of Clear Choice or Teeth in a Day either single implants or full arch tooth replacement. We are now partnering with Nobel BioCare to offer you an alternative implant experience – right here in our Fresno dental office. Nobel BioCare is a leading provider of implant devices and solutions and we count on their excellence for our implant products and computer guided implant services. Ask about our dental implant solution today!